Gaggione E Plasticase: manufacturer of plexiglass boxes
For more than 50 years, Gaggione has been specialized in the design and manufacture of thick optical parts in PMMA or plexiglass.
This long experience and expertise acquired over the years has also been put to use in luxury packaging, with the creation of high-end Plexiglass boxes, briefcases and cases for storage, transport and presentation for the most prestigious brands in the luxury sectors such as Perfumery-Cosmetics.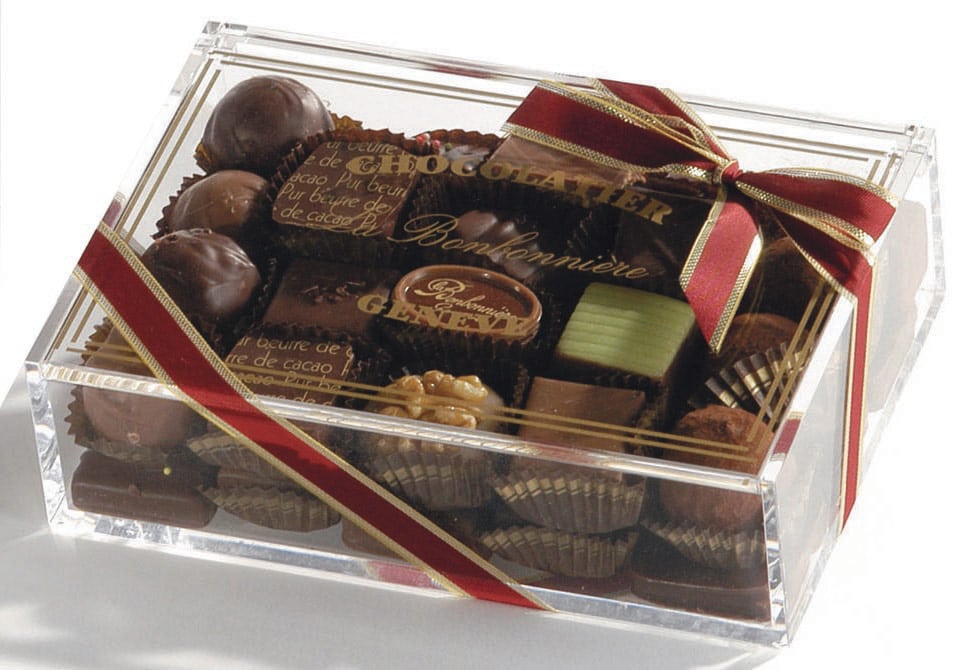 Plexiglas boxes for food use
The use of these sober and high-quality cases has extended to fashion accessories and exceptional food products such as coffee, tea, chocolate, macaroons, spirits etc., whether they are boxes intended for the sale or promotion of your luxury products.
For more special events such as a birthday or wedding, wrap your gifts in an original and reusable gift box and offer an unforgettable memory!
Customizable luxury boxes
The advantages of our luxury plexiglass boxes are numerous: a transparency close to crystal, a great sobriety, thick walls from 3 to 4 mm for greater solidity and an irreproachable quality of finish!
Thanks to a minimum order quantity of 100 pieces, we can adapt to your economic needs for small orders. A low minimum order quota that allows you to offer different customized boxes.
Manufactured in series and kept in stock, they are available quickly to meet your urgent needs.
Customization by external marking is possible in digital marking (you have the possibility to have a photo affixed!) or hot stamping. An interior cushioning in transparent thermoforming can be proposed to highlight your exceptional creations and provide optimal protection for your most fragile products.
Catalog
Discover Gaggione's catalog
Format, size, color, what packaging for your project?
Personalization
Compose the model of your choice
With inside / outside personalization, attract and seduce your users for a long time.