Empty first aid kit in rigid plastic

Gaggione mini-cases have always been well suited to first aid and emergency use: they are lightweight and resistant to impact and the main chemical agents.
This is why the best specialists in 1st Aid kits choose Gaggione empty cases that they fill according to their customers' requirements.
This success is due to the intrinsic quality of our products, recognised by professionals.
For certain models that are particularly popular with our customers, the R2, R1 and L1, we offer wall brackets. In an emergency situation, the wall bracket is a significant reference point for all users, who can therefore take action without delay.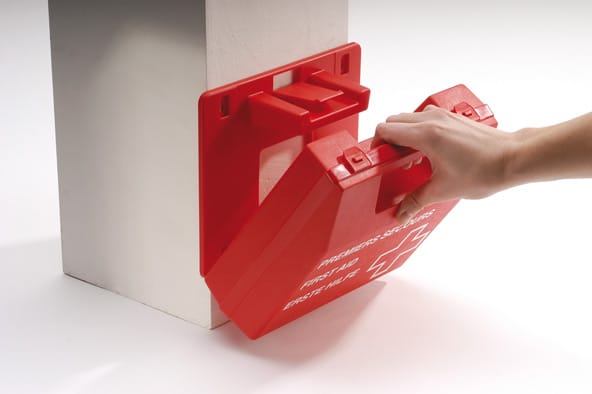 Empty 1st Aid kit with wall bracket
The 3 polypropylene case models most suitable for first aid kits are: R2, R1 and L1. They are all fitted with a wall bracket.
Thanks to this wall bracket concept, the first aid kit can be located without delay in an emergency. This time saving is always significant in a stress situation.
These RA, RB and LA brackets are available from stock in red, white and translucent and are supplied separately.
From 100 parts, the boxes can be customized for more effective advertising!
Empty first aid kits without wall bracket
All our polypropylene cases can be used as first aid kits. Available in a wide range of colours, our mini-cases can be marked with a logo for greater effectiveness!
Catalog
Discover Gaggione's catalog
Format, size, color, what packaging for your project?
Personalization
Compose the model of your choice
With inside / outside personalization, attract and seduce your users for a long time.