Custom boxes and cases in moulded plastic

Plastic cases and boxes: with Gaggione you have the assurance of "made in France" custom quality. Whatever your design imperatives or mechanical constraints, you can count on our assistance. We engineer and design the final product and injection tooling in compliance with your specifications, for medium and large batch production runs. Our experience in moulding plastics guarantees you a product that meets your requirements.
Enhance your boxes with foam inserts or heat moulded trays.
Promote your company and your product by selecting from our different marking techniques: screen printing, hot stamping, pad printing or etching.
The plastics we use can be recycled. We are genuinely determined to ensure better protection of the environment, and have therefore adopted a REACH approach with our suppliers.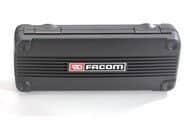 Boxes and cases for manual and power tools
Safety, quality and reputation: our custom solutions optimise presentation and storage of work or DIY tools: screwdrivers, screws, keys, drill, etc. Injection moulded in polypropylene, this packaging has the advantage of very good impact resistance.
Our experience of over 40 years in plastics injection means that we can offer tangible responses in view of your imperatives. Technical constraints, aesthetic or functional choices, deadlines, cost savings, logistics: we listen to you. We are recognized for our commitment, whatever the final project: boxes and cases for hand and power tools, cases for drills, etc.
You can customize your boxes with foam inserts or heat moulded trays, to hold your power tools in position effectively. Your company and your product will be highlighted by a logo printed on the cases (screen printing, hot stamping or pad printing) or directly into the material during moulding.
Boxes and cases for transport / shipment
For transport or shipment of your products securely and in confidentiality, opt for a custom box. We use injection moulded plastics for their solidity. We offer an extensive choice of raw materials in order to meet all your technical and economic imperatives.
To perfect your crates and boxes used for transport, we offer limitless possibilities for marking by screen printing, hot image transfer, pad printing or hot stamping. For long-lasting identification, we recommend a brand engraved directly in the mould.
Catalog
Discover Gaggione's catalog
Format, size, color, what packaging for your project?
Personalization
Compose the model of your choice
With inside / outside personalization, attract and seduce your users for a long time.